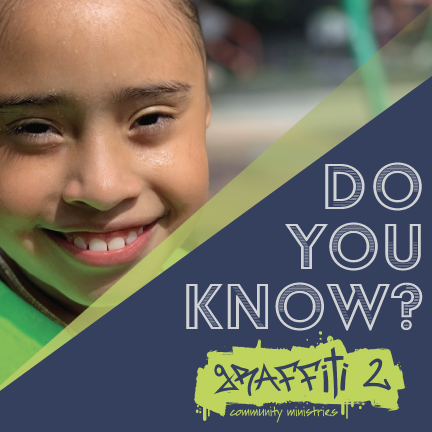 Do you know . . . Graffiti 2 Community Ministries has an annual fundraising goal of $300,000 for our operating expenses. Broken down, that's $25,000 a month to serve the 100+ kids, teens, and adults who walk through our doors. A gift of $250 a month helps our staff serve one individual through educational help, meeting basic food needs, English as a Second Language classes, job training, or social services. Every financial gift makes a difference as we address the physical, mental, emotional, social, and spiritual well-being of each individual we serve. Click the button below to begin, continue, or increase your commitment.
Do you know . . . there are over 100 individuals whom we serve every month? You can make a difference by praying for one of those individuals. Click the button below, fill out the form, and let us know you will pray for a participant. We will send you an email of someone specific for whom you can pray.

Do you know . . . Our programs are offered free of charge to the children, youth, adults, and families in our community.
Do you know . . . You can follow our blog, sign up for our newsletter, and keep an eye on our calendar to connect with our current work and upcoming events.
Do you know . . . Whether you live in the 5 boroughs or across the country we have ways for you to join our work in Mott Haven. Find a way to join the work God is doing.