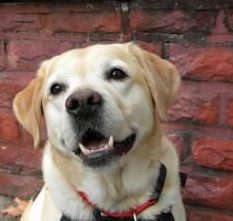 On Saturday, June 25, Proof the missionary dog passed away. Proof served as a professional therapy dog with Graffiti 2 Community Ministries for over ten years. For many, her welcoming face, wagging tail, and friendly manner were Graffiti 2.
For me, her handler, she was a constant companion. I often quipped, "There is no living thing I have spent more time with than her." Many people have called, commented, and expressed concern for me in this time of loss. However, this week's events have only heightened my awareness of the following truth.
As much as I loved Proof, I love the people who loved her incomparably more.
Consider the following comments made via social media:
"She was like my dog all these years. She used to be happiest person every time she seen me. I walked her whenever I had the time too. I'll never forget the last time I walked her. I miss her so much, but god has her now."
"Whenever I was having a bad day, I knew I could always count on Proof to be there and take whatever was bothering me off my mind. For that I will be forever grateful to Proof and Andrew Mann. Thank you for all that you've done for not only me, but for the entire Graffiti Community. Proof will never be forgotten."
"Proof was the best dog I've ever known- that's no understatement. 1st dog that ever taught me ab the Lord, ily dawg."
Proof made a deep impact on these and many others. Her final living moments were tearfully shared at the animal hospital with a young man who grew up at Graffiti 2 who is now in college. He stroked her soft ears and spoke quiet, comforting words.
Proof wasn't just my dog. She was our dog.
She belonged to our kids–kids she welcomed after school as they walked through our doors.
She belonged to our teens–teens for whom she was a consistent presence in an inconsistent world.
She belonged to our church–perhaps the only church that wasn't surprised when a dog walked down the aisle and plopped herself in the front row.
She indeed belonged to our community–a community that delighted in patting her head and saying, "Hey Proof!" as she walked by.
On Saturday, as I rode the subway to the animal hospital, two boys I knew got on my subway car. Although these boys had been in Graffiti 2 programs in the past, these days most of their free time is spent running around in the street.
I asked, "Where are you going?"
One boy responded, "Downtown."
The other boy asked, "How about you?"
"I'm going downtown too," I answered. Then I asked, "Where are you getting off?"
"59th Street. How about you?"
"59th also. What are you guys going to do?"
"We're going to the Microsoft store. What are you doing?"
I hesitated then responded, "I have something I have to take care of."
The boy across from me unknowingly asked, "How's Proof?"
"Well, actually that's where I'm going now. She's not well. She's in the hospital. She has cancer."
The boy next to me replied, "Why does that always happen to the good people and the good dogs?"
Their banter turned more cheery as they recollected, "I remember Proof used to always shake my hand. . .She hugged me one time. . .Proof was a good dog!"
Indeed, Proof was a good dog.
This world would certainly be a better place if we were each more like Proof…if people would remember our lives saying, "He used to shake my hand. . .she gave me a hug one time. . .He was a good man!"
---
Proof with some of the people who loved her. . .